Comparing Pelikan 4001 Blue-Black and Pelikan Edelstein Tanzanite
May 2, 2012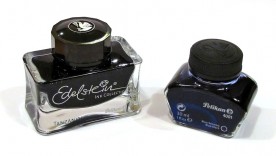 Pelikan 4001 Blue-Black is a classic ink with a loyal following among many fountain pen users. It is deep blue-grey in colour, shades nicely on most paper, and perhaps most importantly, is a fairly dry ink that works reasonably well on poor quality paper used in office copiers and Moleskine journals. Unfortunately, some time in 2011, this ink became unavailable in North America, leaving its many fans searching for a substitute.
2011 also saw the introduction of Pelikan's Edelstein series of "boutique" inks, available in a variety of colours. The initial offering did not include a blue-black, but in 2012, Pelikan added Edelstein Tanzanite to the line. This ink is available in North America, and many users have expressed the hope that it would be a replacement for the regular blue-black.
Since I happened to have a freshly opened bottle of 4001 Blue-Black (purchased in Germany in December) on my desk, I contacted Goulet Pens about obtaining a sample of Edelstein Tanzanite for an in-depth side-by-side comparison. Brian Goulet thought that was a cool idea, and graciously sent me a pair of vials for these tests.
Pens Used
Comparing two similar inks using only a single pen and one kind of paper is almost meaningless. Every pen and paper combination has a different effect on the ink, so I chose to do my tests using four pens and seven different types of paper. The pens used, in order from wettest to driest writer, were:
Papers (and Words)
I initially made a list of about a dozen kinds of paper to test these inks with, but eventually whittled the list down to the following seven:
Staples Multiuse office copier/printer paper (20lb/75g)
HP LaserJet premium copier/printer paper (24lb/90g)
Staples Sustainable Earth Bagasse paper (13lb/50g)
Whitelines staple-bound notebook paper with white ruling on light grey (21lb/80g)
Clairefontaine A4 spiral-bound notebook paper (24lb/90g)
Moleskine pocket notebook paper (20lb/75g)
Terradigm Bagasse copier/printer paper (20lb/75g)
I also did a water-resistance test using a page from a Rhodia DotPad.
Two inks, four pens, and seven papers meant that I would have to produce fifty-six separate writing samples. I first considered writing the same thing fifty-six times, but that felt too much like punishment in grade school. Instead, I decided to write out the text of one of the articles on our farm's web site, Our First Visit to Norway.
On each page, I wrote with the 4001 Blue-Black on the left side and the Edelstein Tanzanite on the right, with the four pens in sequence from top to bottom. At the very bottom of each page, I performed a swab test, the first (leftmost) third of which was made by a single pass of the cotton swab, the second third by two passes, and the last third by three passes.
So, without further ado, the scans of the completed test pages are reproduced below. Click on them to see them full size (note that some of them are quite large, as they are full letter-sized pages scanned at 300 dots-per-inch).
Staples Multiuse
I'd heard that Staples copier paper is fairly fountain pen friendly, but this one certainly isn't. It is by far the worst of all the papers tested. Both inks spread quite a bit with the Parker "51&rdquo and the Pelikan M605, the two wettest pens used. Performance was a little better with the M200 and M205. With all four pens, the 4001 Blue-Black performed better than the Edelstein Tanzanite.
The difference between the two inks was most apparent on the back side of the page, where the Tanzanite exhibited a lot of bleed-through with the Parker pen, some with the M605, a little with the M200, and none with the M205. The regular blue-black did not bleed through with any of the pens.
Of all the papers used in this comparison, the Staples Multiuse showed the most difference between these two inks, with the 4001 Blue-Black being the better choice if you're stuck with this paper.
HP LaserJet 24lb
Both inks performed exceptionally well on the 24lb HP LaserJet paper, exhibiting no spread or feathering, no bleed-through, and minimal show-through. The two inks look very similar on this paper, with the Tanzanite being just a little darker.
Staples Bagasse
The Staples Sustainable Earth Bagasse (sugar cane) paper continues to surprise me. Every ink I've ever used on this paper spreads a little (i.e. the lines are thicker than they are on better papers), but there is rarely any feathering or bleed-through, even though this is very thin paper. And, depending on your tastes, the amount of show-through is acceptable.
Viewed from the front, the two inks look almost identical on this paper, with the Edelstein ink again being just a little darker than the 4001. Show-through from the back is also about the same, although I did get two very small spots of bleed-through with the Tanzanite.
Whitelines
Whitelines paper from Sweden is unique. It is a very light grey, with the ruling in white. Although it is not advertised as being fountain-pen friendly, it works reasonably well if you don't use a wet and/or heavily saturated ink (for instance, it does not work well with Private Reserve DC Supershow Blue). My Parker "51" inked with Pelikan 4001 Blue-Black is what I use every day in my Whitelines notebook at work.
Both inks performed similarly on this paper, with neither exhibiting any spread, feathering, or bleed-through, and about the same (minimal) amount of show-through. Once again, the Tanzanite appears slightly darker than the regular blue-black, and the difference seems more apparent on this paper than any of the others.
Clairefontaine 90g
Clairefontaine 90g paper is of course the fountain pen paper of choice for many people. I have only ever found one ink that will spread, feather, or bleed on this paper (Private Reserve Fast-Dry Midnight Blue); everything else performs flawlessly.
The two Pelikan inks were no exception, and there was very little to differentiate the two except that the Tanzanite was marginally darker.
Moleskine
Ah, Moleskine. The over-hyped, over-priced, yet somehow alluring notebooks supposedly used by Hemingway and friends, probably none of whom used a fountain pen. If only these books had consistently good paper, fountain pen users would snatch them up. The page I used for this test was taken from the middle of a Moleskine pocket journal to ensure that both inks were tested on the same side of the same sheet of paper.
I have used my Moleskine from time to time, usually with Pelikan 4001 Blue-Black because it is one of the few inks that works acceptably on almost every page as long as I use my Fine-nibbed M200. In this test, I found that the Tanzanite is not quite as well behaved, exhibiting significant spread and feathering, especially with the Parker "51" and Pelikan M605.
Viewed from the back, the Tanzanite exhibits more show-through, and also some bleed-through, which the 4001 managed to avoid doing. The regular blue-black, although not perfect, is definitely the better choice on this paper.
Terradigm Bagasse
Terradigm is a Toronto-based company that produces letter-sized copier and printer paper made from sugar cane. This paper is thicker and more opaque (20lb) than the Staples Bagasse (13lb), and I purchased a ream (it is carried by Staples in Canada) to try out. I plan to review it in the near future when I've tested it with more pens and inks, but decided to include it here by way of introduction.
The 4001 Blue-Black and the Edelstein Tanzanite performed equally well on this paper. Neither ink exhibited any spread (unlike on the Staples Bagasse paper), and there was no feathering or bleed-through, and remarkably little show-through for a 20lb paper.
Water Resistance
Neither the 4001 Blue-Black nor the Edelstein Tanzanite are "traditional" iron gall based inks, so they do not exhibit such inks' water resistance. However, both inks are more water resistant than typical washable blues such as Pelikan 4001 Royal Blue or Waterman Florida Blue.
Approximately ten seconds under running cold water washed away a lot of ink, but left perfectly legible results behind. I did notice that the Edelstein ink also left a blue haze, suggesting it has a blue component that diffuses, leaving the black behind. If I had to choose one of the two inks based on water resistance, I'd choose the 4001 as it seems to have left clearer writing on the paper.
Observations and Impressions
I tested drying time on only four papers. On two of them, the drying times were practically identical, but on the Moleskine paper, the regular blue-black took twice as long to dry as the Tanzanite. A bigger surprise was the Staples Multiuse paper, where the Tanzanite dried almost instantly, but the regular blue-black took about 5 seconds to dry completely.
Drying Times
4001 Blue-Black
Edelstein Tanzanite
Staples Multiuse
5 seconds
1 second!
HP 24lb LaserJet
7 seconds
6 seconds
Moleskine
9 seconds
5 seconds
Rhodia DotPad
7 seconds
7 seconds
Of the two inks, the 4001 Blue-Black is, in my opinion, a truer blue, whereas the Edelstein Tanzanite leans very slightly towards the teal side. The difference is most apparent on the ivory coloured Molkeskine paper. However, people perceive colours differently (especially blues, it seems), so you may feel that the 4001 is more on the purple side of blue. On most of the papers tested, I can really only see the difference in the swabs, not in the writing.
Both inks exhibit about the same amount of shading with a given pen and paper, although the
Tanzanite
is slightly darker overall.
The writing experience with both inks is about the same, with the Tanzanite being somewhat wetter. Both flow well, and neither is what I would consider a lubricating ink.
A big difference between the two inks is of course the price. A 50mL bottle of Edelstein ink costs $25 from Goulet Pens at the time of this writing, giving a unit cost of $0.50/mL. In comparison, a 62.5mL bottle of 4001-series ink is only $9.25, for a unit cost of only $0.16/mL. Of course, the 4001 Blue-Black ink is no longer available. Although this makes the Edelstein Tanazanite seem rather expensive, it is comparable to the per-mL cost of ink in cartridges.
Conclusion
Is Pelikan's new Edelstein Tanzaninte a viable replacement for the discontinued (in North America) 4001 Blue-Black? It depends. These inks are definitely not the same, but they are far more like each other than any other two inks I've ever used. Their colours are close, but the Tanzanite is marginally darker. The inks' behaviour on decent quality paper is very similar, and the writing feel is about the same.
Unless you are writing in a Moleskine journal or on cheap office paper, I would consider these two inks suitable substitutes for each other. If, like me, you travel to Germany frequently, you may want to stick with the 4001 Blue-Black simply because it is far less expensive. If that is not an option, or you prefer a slightly upscale ink in a fancy bottle, then you can't really go wrong with the new Edelstein Tanzanite either.
This ink is available from Goulet Pens or your local well-stocked fountain pen store if you're lucky enough to have one in your area.
Related Articles
If you've found this article useful, you may also be interested in:
Buy Stefan a coffee! If you've found this article
useful, consider leaving a donation to help support
stefanv.com
Disclaimer: Although every effort has been made to ensure accuracy and reliability, the information on this web page is presented without warranty of any kind, and Stefan Vorkoetter assumes no liability for direct or consequential damages caused by its use. It is up to you, the reader, to determine the suitability of, and assume responsibility for, the use of this information. Links to Amazon.com merchandise are provided in association with Amazon.com. Links to eBay searches are provided in association with the eBay partner network.
Copyright: All materials on this web site, including the text, images, and mark-up, are Copyright © 2023 by Stefan Vorkoetter unless otherwise noted. All rights reserved. Unauthorized duplication prohibited. You may link to this site or pages within it, but you may not link directly to images on this site, and you may not copy any material from this site to another web site or other publication without express written permission. You may make copies for your own personal use.